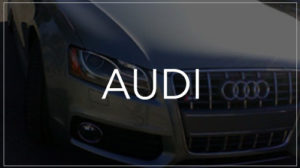 Audi has long been established as a premier brand of automobiles. Part of VAG (Volkswagen Auto Group), the company has been making vehicles out of Wolfsburg, Germany for just over 80 years.
We at Orion constantly strive to maintain German automobiles to the highest standards and Audi/ Volkswagen is no different. From regular regular scheduled maintenance services, to complex electrical diagnosis, to in-depth mechanical engine repairs.
If your Audi has the 2.0T TSI engine, please take a look at the link below. There are thousands of models that are still on the road with potentially defective timing chain tensioners.  These tensioners can fail and cause major engine damage.  The affected engine codes are:  CCTA, CBFA, CAEB, CAEA, CDNC and CPMA.  These engines are in a variety of Audi models from 2007-2012.  We've seen failure of these tensioners in some 2013 models as well.  Contact us if you need a quote to perform preventive replacement of the timing chain tensioner before catastrophic failure.